Fly with Champions!
Learn to Paraglide on the best equipment available. Tribal Flight offers an extensive range of Dudek Paragliders for both Paramotoring and Paragliding
View Courses
Paragliding Training and Equipment
Tribal Flight Paragliding was established to:
- Promote the sport of Paragliding and Paramotoring.
- Acknowledge specific training techniques and requirements.
- Create a friendlier, safer environment for students.
-  Offer standard and tailored instructional courses for Paragliding and Paramotoring by approved professionals.
- Deliver One on One training solutions for both Paragliding and Paramotoring Lessons
- Build a network, a tribe of pilots globally who are highly regarding in the industry.
Learn to Paraglide and Paramotor
Tribal Flight Paragliding offers both Paragliding Lessons and Paramotoring Lessons. We offer a straight through Paramotoring Course at the best training facilities in Australia. Also known as "Powered Paragliding". The Foot Launched Syllabus has a large content of Paragliding and you will gain a combination of theory, great practical skills and experience from free flying that will make your Paramotoring transition much easier, safer and enjoyable. We combine early flights from a low training hills with winch towing to safely speed up the learning process and it's not unusual to have students experiencing low glides on day 1.

Paramotoring is a life changing experience and we like to make sure our students are making an educated decision on the school and equipment that they choose, as mistakes can be costly and disheartening.

Learn to Paraglide and Paramotor today. View Course Dates or call as you could start your training now!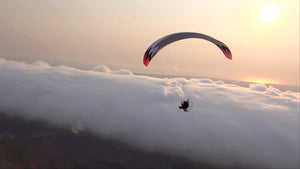 Testimonials
I was extremely lucky to stumble onto Tribal Flight. Matt Fox is one of the best instructors, and nicest guys, you will encounter.

He goes above and beyond the call of duty to ensure that by the time you leave, he has imparted his vast wealth of knowledge and skills to the student. His training method is tailored towards the student he is teaching and he puts emphasis on asking questions about anything you may not understand.


Andrew Mckeown
I have recently bought a Parajet Maverick paramotor from Matthew at Tribal Flight. Matt drove from Toowoomba to my home on the Sunshine Coast and set it up for me. Any issues that I have had since that time have been resolved very quickly by Matt, and I would recommend him and his team to anyone.

Geoffrey Cole